Where They Raced Documentary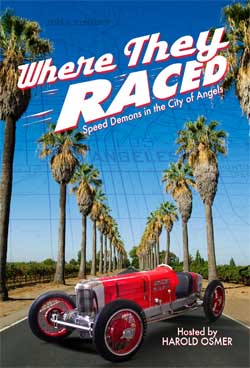 Our Where They Raced documentary is in hand and ready to ship! Speed Demons in the City of Angels.
More auto raing has taken place in Southern California than any other place in the world. Where They Raced told the tale in pictures and text. This new video documentary is the first of it's kind to connect many of the personalities with the actual racing sites.

We have Vic Edelbrock Jr and Hank Hilte talking about Gilmore Stadium, Judy and Danny Thompson walking down Lion's Drag Strip, Tom Malloy driving a roadster down the "backstretch" of Carrell Speedway, JC Agajanian Jr talking about Turkey Night, and so much more that it's better to just watch the video yourself.
Of course we can't help ourselves...we drove a 1914 Fiat around the Santa Monica Road Race course, rode the route of Southern California's first hill climb meet at Altadena/Pasadena, and cleared up some of the myths surrounding Pomona Drag Strip by asking the very people who were there from the beginning.
Did you know that Los Angeles was home to the first wooden speedway built especially for racing cars? We had three board tracks overall. One was in the middle of Beverly Hills, the other in Culver City (boasting 45 degree banking!). As fans of Where They Raced book you know much of this already. But seeing it in action via Where They Raced documentary is a special treat.
LA Coliseum was bult inside of the original Agricultural Park one-mile horse track

Pomona Drag Strip has ALWAYS been right where it is now, not to the east or west
Gilmore grandstands went to Saugus Speedway
There were four tracks called Ascot
Los Angeles Speedway was the name of the board track at Beverly Hills because no one knew where Beverly Hills was in 1920. It had track-level luxury boxes, but never "sky boxes"

We even have a feature on what we consider to be the single most significant race car in American auto racing history. Do you know this car? We do. And we'll share it with you, give you the grand tour, and tell why it is so important.
Our original plan was to create an episodic series. We may still do that. But so many of you kept asking for more, prompting us to compiled what we have into a 2-hour DVD. Our documentary version of Where They Raced is now available. Order two today! One for you and one for your buddy who still hasn't returned the WTR book you loaned him.
We thank you.