2010 G37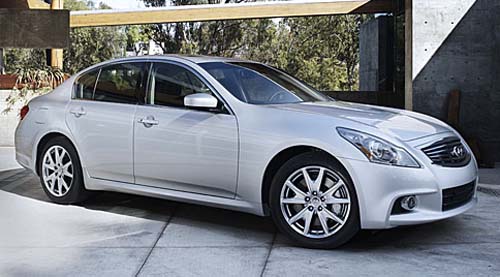 2010 Infinity G37 6MT
Smooth. Precise. Powerful. Here's a car I'd like to have.
Infinity's 2010 G37 6MT is a car you can buy today and be just as happy driving five years from now. Rear wheel drive never gets tired, the short-throw 6-speed manual transmission is slick, and 328 horsepower from a 3.7-liter V6 will keep your backside firmly pressed into the deep bucket seats.
Interior appointments seem minimalist at first glance. At second glance, we noticed that system controls were where they should be, had terrific tactile feel, and were so well integrated that they don't appear until looked for. Very nicely done.
Our test vehicle came with two options; Navigation Package (Infinity Hard Drive Navigation system w/touch screen, DVD playback, Bluetooth, etc., $1,850) and R-SPEC High Friction Brake Pads ($370). What this tells you is that the G37's modest price of $37,000 includes an impressive list of standard equipment. Every owner has their own favorite list. Ours (and Infinity's apparently) has engine power, rear wheel drive, memory seats, USB connectivity, one-touch up/down window controls, speed sensitive steering, and lots of airbags.
Also on the list of things we like is an ability to turn off the traction control. Infinity employs a system called Vehicle Dynamic Control which helps correct for emergency steering input by adjusting engine power while applying the brakes on specific wheels to help control an out of control situation. The Traction Control System comes into play when rear wheel spin is detected. Our admittedly minimal testing of these systems showed them to be unobtrusive and seamless in their operation.
The G37's freeway cruising ride is bit on the rough side and road noise from the tires might make you nuts on a long haul, but those traits translate into an aggressive road handler when the twisties appear in your windshield. There is no selector switch to change from one suspension mode over another. We didn't need nor want one.
Driving the G37 6MT reminded us of what fun driving can be. This car performs both challenging and mundane chores so well that you'll eagerly await the return trip. Engine power comes on like a wave, building and building to the redline. Other powerful cars come on with a big dramatic rush. Infinity's approach allows the driver access to as much smooth power as he wants, with no sudden jolts requiring loads of attention. Coupled to the manual six-speed, the driver remains in complete control. The G37 inspires confidence by responding the same from 15 to 30 MPH as it does from 45 to 60 and 55 to 70.
While you could fit five people in the G37, three of them will not be happy. The 4-door mid-sized sedan is large enough to get in and out with relative ease, but this is not a big car. Fair enough, it's not meant to be.
Four people traveling in basic luxury is the order of the day with a G37 6MT sedan. I'll drive.
Harold O.
2010 Infinity G37 6MT
Price:
Base $37,000, as tested $40,085
options include:
Navigation Package ($1,850); R-Spec high friction brake pads ($370)
Engine type:
3.7L V6 4 Cam 24-valve, Variable Valve Timing Control System (VVTCS)
Horsepower:
328@7000 rpm
Torque:
269 lb-ft @ 5200 rpm
Performance:
0-60 mph 5.7 seconds
Drive configuration:
Front engine / rear wheel drive
Transmission type:
6-speed Manual
Suspension:
Sport-tuned suspension and steering; front and rear stabilizer bars
Dual Flow Path shock absorbers
Wheels and tires:
18 x 7.5" alloy wheels 225/50R18-W (front)
18 x 8.5" alloy wheels 245/45R18-W (rear)
Brakes:
4-wheel, 4-channel ABS
Aluminum 4-piston opposed front calipers; 2-piston rear calipers
Front 14.0-inch Vented Disc
Rear 13.8-inch Vented Disc
Overall length/wheelbase:
187.0 inches/112.2 inches
Overall width:
59.8 inches
Overall height:
57.2 inches
EPA mileage estimates City/ Highway:
17/25
4 Year/60,000 mile Basic Limited Coverage
6 Year/70,000 mile Powertrain
7 Year, unlimited mileage corrosion perforation
24-hour Roadside Assistance