Turkey Night Grand Prix

For 2016, the annual Turkey Night Grand Prix went back to Ventura Raceway. We are scheduled to run at PAS again on November 28, 2013. We once again expect to sell out of programs and highly suggest you buy yours at the speedway. They will not be made available online until after the event.

---
The Turkey Night Grand Prix has been run on Thanksgiving day since 1934. The first race was meant to close out the inaugural race season at Gilmore Stadium in Los Angeles and was known as the Thanksgiving Night Midget Grand Prix. Bob Swanson won the first race in '34 and 'Daring' Bill Zaring won the final Gilmore event in 1950.
The annual race went on hiatus when Gilmore Stadium closed in 1950. Promoter JC Agajanian revived the event in 1955, bringing it to Gardena Stadium at 139th & Western. Agajanian dubbed his race the 'Gilmore Grand Prix' in order to capitalize on the memories and lore of the old beloved stadium.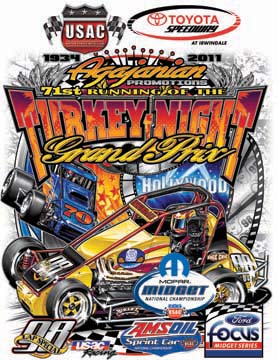 Indy veterans were regular competitors at the Agajanian events, making for stiff competition while attracting large crowds. Johnnie Parsons took top honors in 1951 with Tony Bettenhausen coming west for victory in 1959.
Turkey Night moved to Ascot Park in 1960. Texan AJ Foyt won the first two Grand Prix at Ascot. Ron Shuman came to dominate Turkey Night over the years by winning four times in a row ('79-'82) en route to eight overall wins.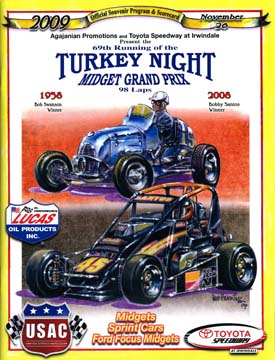 The race had been held on a dirt surface until "adventures" with Ascot Park caused a move to pavement at Irwindale's Speedway 605 in 1975. The race moved back to Ascot Park the following year and stayed put until Ascot's demise in 1991.
Agajanian Promotions continued promotional efforts with Turkey Night by moving the race around to Saugus Speedway, Bakersfield, Ventura, and Perris Auto Speedway. In 1999, the Turkey Night Grand Prix found a home at the new Irwindale Speedway where it ran from 1999 through 2011 on pavement. Jason Leffler won the first of his two Turkey Grand Prix victories in 1999.

For 2012, the race was moved 'back to the dirt where it belongs' at Perris. The all-midget show proved a big hit with fans and racers alike. 'Young Money' Kyle Larson took top honors Thanksgiving Night.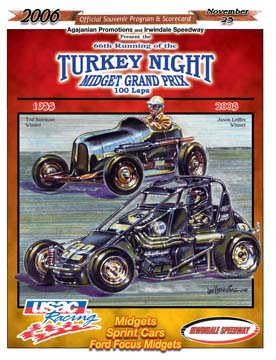 HO Publishing has produced the printed event program for Turkey Night every year since 2001. Artwork displayed on this page is program cover art for various years. We work in close association with Agajanian Promotions, USAC, and the host facility. The program gets a 1000 piece run and typically sells out in a single day. However, we do hold copies in reserve before heading to the track.
To order a back issue program, please use the PayPal button below. Select your desired years from the drop down menu.

---
---
Contact Us for more specific information about Turkey Night.

Return from Turkey Night Grand Prix to HO Publishing home page.