2012 Lancer GT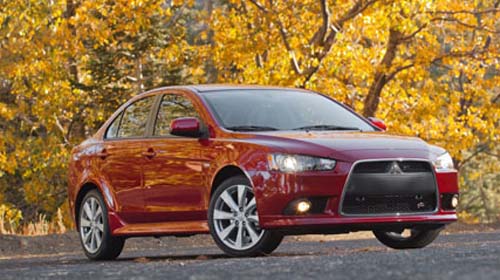 2012 Mitsubishi Lancer GT Sedan
Mitsubishi's 2012 Lancer GT makes a great first impression. Sculpted lines and a slight rake give the GT a ready-to-go-now look. Highlighted primary body seams provide accents where chrome trim would have in the way back days and the Lancer GT pulls it off remarkably well.
Leather seats, steering wheel, and knob covers welcome drivers and give a nice feel to the attractive interior. Controls are logically laid out and easy to use. There is ample head room and the front seats are quite comfortable and supportive. Large drivers will find left elbow room lacking, but since we know Lancer is a compact car, this is hardly a surprising discovery.
One minor quibble with the interior involves the steering wheel. Though able to adjust up and down, an in-and-out adjustment would be welcome. After moving the seat into position, we found our arms extended a bit too far for our preferred driving posture.
The GT package includes a rear camera system that allows you to see what is directly behind you when in reverse. These systems have been around for awhile and can prove invaluable under the right circumstances. That said, Lancer's viewing screen appears on the rearview mirror and is too small. We found it more distracting than useful.
Mitsubishi's 2012 Lancer GT's 2.4L develops 168 horsepower and is adequate for the task at hand. The CVT transmission shifts smoothly and largely goes unnoticed, as it should. Steering wheel mounted paddle shifters allows the driver to add more spirited gear selection when cruising the mountain roads.
The overall drivetrain package just short of desirable. Response time is a tad too long and engine breaking is non existent. This results in a driver standing too hard on the gas to get moving then having to brake harder than usual to keep from rolling over the crosswalk.
Steering and handling around town are fun and predictable. But Lancer's handling limits are easily reached. The car will push through turns and the brakes require a lot of familiarity before driving this car hard.
Still, the 2012 Lancer GT is not meant to be a rally racer. As a small, just above entry level vehicle, it's hard to beat. Lancer is comfortable, practical, looks great, and can be a ball to drive. Knowing that the driving limits are low could be a plus when buying this car for your prospective college-bound son or daughter.
Often overlooked is a new car warranty. Prospective buyers should take a look at Mitsubishi's warranty and let that factor into the purchasing decision. Any manufacturer willing to grant as extensive and long term a warranty program as Mitsubishi ought to be given serious consideration.
Harold O.
2012 Mitsubishi Lancer GT
Price:
Base $20,845 as tested $25,190
Standard features include:
Advanced dual front airbags; Tire pressure monitoring system; Sportronic paddle shifters; Sport tuned suspension; Leather wrapped steering wheel
GT option includes:
Leather seating surfaces; 710-watt Rockford-Fosgate Punch premium sound system; Power glass sunroof; HID headlamps
Engine type:
2.4L, MIVEC valve timing control
Horsepower:
168 @ 6000 rpm
Torque:
167 lb-ft @ 4100 rpm
Performance:
0-60 mph 7.7 seconds
top speed NA
Drive configuration:
Front wheel drive
Transmission type:
6-speed INVECS-III Automatic; Steering wheel mounted paddle shifters
Suspension:
Front: MacPherson struts, stabilizer bar
Rear: Multi-link, stabilizer bar
Wheels and tires:
18-inch alloy wheels
Dunlop All-season 215/45R18
Brakes:
Front 11.6 inch Vented Disc
Rear 11.9 inch Solid Disc
4-channel Anti-lock Braking system
Overall length/wheelbase:
180.0 inches/103.7 inches
Overall width:
69.4 inches
Overall height:
58.7 inches
EPA mileage estimates City/ Highway:
23/30
5 Year/60,000 mile Bumper to Bumper
10 Year/100,000 mile Powertrain
7 Year, 100,000 mile corrosion perforation
24/7 Roadside Assistance, 5 years/unlimited miles