2012 Toyota Camry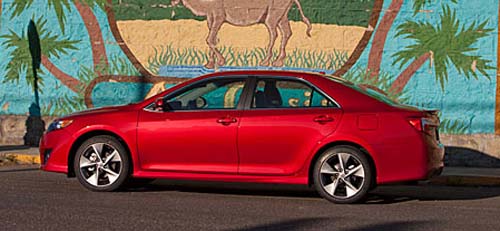 2012 Toyota Camry SE Sedan
Someone over at Toyota got the memo stating that Americans like their cars to accelerate when we tell them to. The 2012 Camry's V6 delivers a respectable 268 horsepower and 248 lb.-ft. of torque to tits front wheels in impressive fashion. Since the drivetrain is unchanged from last year, this increased performance (0-60 mph in 5.7 seconds vs 8.0 last year, 12.4 in Camry's first year of 1983) is likely attributable to to the SE's overall drivetrain/suspension design.
Along with the V6, our Camry SE has upgraded shocks and suspension components to produce a firmer ride than the standard, more squishy Camry. Switching off the stability controls reduces understeer, producing a fun, confident drive up mountain roads. The stiffer suspension is noticeable on the highway, yet Camry remains comfortable, smooth, and quiet.
OK, let's admit up front that the 2012 Toyota Camry is not a sports sedan, nor does it pretend to be. That's part of what made this acceleration so surprising. The Camry nameplate has been around long enough for the entire automotive world to know what to expect. We expect a solid, dependable, well-engineered vehicle that will serve us well. Boring traits, perhaps, but highly admirable when making a major family purchase.
For 2012, Toyota has unveiled the seventh generation Camry and it does not disappoint. Most notably are the interior changes. The layout is logical and form-fitting, leading one to believe that a person actually thought about this before simply sticking in a bunch of switches and letting it fly.
Those of us over six feet tall will find the front seats a bit tight and a couple more inches of downward adjustment would be welcome.
Our SE test version had the optional leather package ($1,050), power moonroof ($915), JBL navigation/stereo unit ($650). These brought our sticker from a base of $26,640 to just over $31,000.
That price drifts upward into stiff competitive range with a multitude of other mid-sized sedans. This will be where Camry's reputation comes into marketing play. Folks looking to buy in this segment need room for four, a moderate of luggage, and reliability in the long haul.
You'd have to be a student of the game to notice the exterior changes for 2012. The interior is remarkable well designed. Camry's engine performance rates high with us.
Looks like Toyota's redesigned Camry is a winner.
Harold O.
2012 Toyota Camry SE Sedan
Price:
Base $26.640 as tested $31,135
standard features include:
Bluetooth connection; 10 airbag safety system; Tire pressure monitor system, projector beam headlamps; etc.
Engine type:
3.5L V6, DOHC 24-valve, Variable Valve Timing
Horsepower:
268@6200 rpm
Torque:
248 lb-ft @ 4700 rpm
Performance:
0-60 mph 5.7 seconds
top speed NA
Drive configuration:
Front wheel drive
Transmission type:
6-speed EXTi Automatic, Steering wheel mounted paddle shifters
Suspension:
Front: MacPherson struts, stabilizer bar
Rear: Sport tuned MacPherson struts and springs
Wheels and tires:
18-inch alloy wheels
225/45R18
Brakes:
Front 11.65 inch Vented Disc
Rear 11 inch Solid Disc
Electronically Controlled Braking system
Overall length/wheelbase:
189.2 inches/109.3 inches
Overall width:
71.7 inches
Overall height:
57.9 inches
EPA mileage estimates City/ Highway:
21/31
3 Year/36,000 mile Bumper to Bumper
5 Year/60,000 mile Powertrain
5 Year, unlimited mileage corrosion perforation
24/7 Roadside Assistance, 2 years/25,000 miles