2013 Altima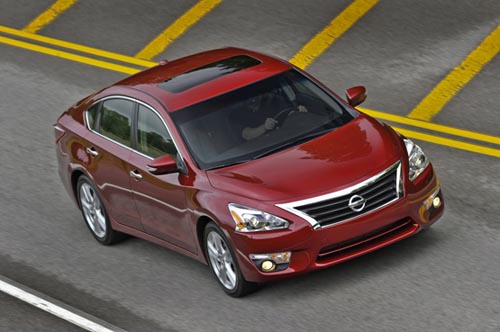 2013 Nissan Altima 3.5 SL Sedan
Nissan's Altima nameplate first came on the scene in 1993. The ensuing twenty years have been witness to multiple advancements within the automotive industry and the new 2013 Altima is a fine testament.
Nissan's mid-size sedan has ample room for four people, five if you have to. Head room is not a problem, nor is entry/exit from either front or rear doors. We know that sounds trite, but you'd be surprised at how many manufacturers miss that most basic feature.
Altima's 2013 exterior lines have changed to reflect a more modern, sculpted look than earlier models. The stance is aggressive, confident, and refined. Unsolicited streetside comments ranged from "is that a Mercedes?" to "you'll get a speeding ticket while parked."
Inside a car is where we spend most of our time and Nissan's designers have focused much energy on those details. The rounded dash, combination of smooth vs textured surfaces, and complete lack of gimmickry rate Altima's interior among the best we've seen. Of special note is their use of both round knobs and push buttons where each is best suited. Think about that for a minute. Considering how some newer cars have become over-teched to the point of us drivers not being able to adjust the fan or radio volume without logging onto the internet for instructions and you get the point.
All controls and switches are where they logically should be. No need to consult the book. We found the front seats in particular to be very comfortable over a long ride. Turns out that Nissan teamed with NASA to design the seats with an eye toward reducing spinal loads and improving blood flow. This translates to a terrific set of seats.
Under the hood of a 2013 Altima 3.5SL lies a 3.5L DOHC 24-valve V6 cranking out 270HP and 251 lb-ft of torque. Coupled to their new reduced friction CVT transmission and front wheel drive, Altima pulls stronger than you'd expect from a mid-sized sedan. Front and rear stabilizer bars beef up the suspension and team with Nissan's Active Understeer Control system to provide a solid, predictable feel through the twisty roads while not compromising the freeway ride. Paddle shifters are included for those inclined to shift their own gears.
We chose to deactivate the (optional Technology Package) Blind Spot Warning System. The alarm tone kept sounding at seemingly random intervals. It became a game for us to see how many tones we could generate on a clear road as the sensors alerted us to multiple stealth dangers. Some fine tuning is in order before this becomes a useful system.
Altima comes in a variety of option packages. You don't get to choose from many additional features, you simply select the level you want and off you go. Our 3.5 SL is top of the line yet only tips the scale at $30,080.
On our standard range of Keeper to Leaver, the 2013 Altima 3.5SL is a Keeper, by all means.
2013 Nissan Altima 3.5 SL
Price:
Base $30,080 as tested $32,362
Standard features include:
Bose Premium Audio System; leather-appointed seats; Power sliding moonroof; Xenon headlamps; etc.
Engine type:
3.5L V6, DOHC 24-valve, Continuously Variable Valve Timing
Horsepower:
270@6400 rpm
Torque:
251 lb-ft @ 4400 rpm
Performance:
0-60 mph 5.9 seconds
top speed NA
Drive configuration:
Front wheel drive
Transmission type:
CVT Automatic, Steering wheel mounted paddle shifters
Suspension:
Front: Independent subframe mounted struts, stabilizer bar
Rear: Multi-link Independent, stabilizer bar
Wheels and tires:
18-inch aluminum alloy wheels
235/45VR18 All-season
Brakes:
Front 11.7 inch Vented Disc
Rear 11.5 inch Solid Disc
ABS with Electronic Brake force Distribution
Overall length/wheelbase:
191.5 inches/109.3 inches
Overall width:
72 inches
Overall height:
58.1 inches
EPA mileage estimates City/ Highway:
22/31
3 Year/36,000 mile Bumper to Bumper
5 Year/60,000 mile Powertrain + 10-year/120,000 mile CVT coverage