2015 Cadillac Escalade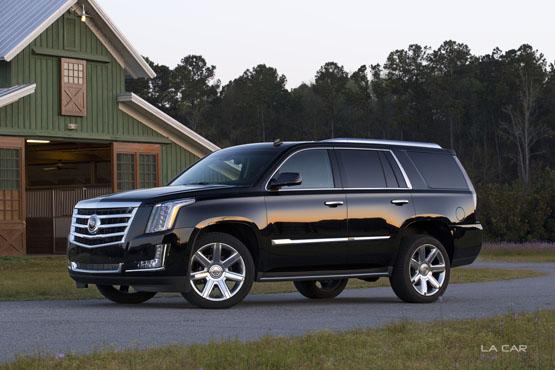 2015 Cadillac Escalade
By Harold Osmer

Being a car guy, as in I drive a car every day, I hadn't fully appreciated why someone would want to drive a big-ass SUV on daily errands. Getting up close and personal with 2015 Cadillac Escalade changed all that.
Ride height, volume, and sheer mass take a few miles to adjust to. Visibility is excellent via wide windows, large side mirrors, and backing assist rear view camera system. Electric steering provides smooth and precise response at every turn. Lane Departure Warning, Rear Cross Traffic Alert, Side Blind Zone Alert, and Driver Assist Package systems alerts come either through audible tones or vibrations sent up through the driver's seat. This end result is a vehicle that is comfortable to drive, maneuvers well, and can be parked with ease.
Escalades of varying vintage are numerous on my end of the San Fernando Valley. Their drivers are loyal and several neighbors immediately recognized the fourth generation 2015 model. Exterior styling changes include tall taillights, a slightly more square shape, and an extra 1.5 inches in length. It doesn't all sound like much, but if you get a 2015 parked next to an earlier Escalade, the differences are apparent.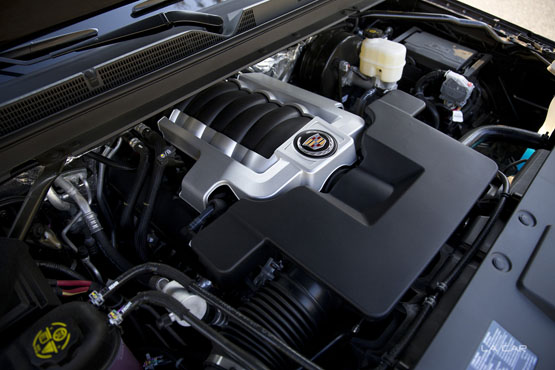 GM's 6.2L V8 produces an ample 420hp and 460 lb.-ft. of torque. Coupled to a 6-speed automatic transmission, Escalade readily gets up and goes. Selecting between Tour and Sport modes produces little change in attitude. While it will never be mistaken for a sports car, you could easily pull two of them on a trailer. The big V8 drops down to four cylinders under light loading in an effort to extend fuel range.
Cadillac is deservedly proud of Escalade's interior appointments. Tactile surfaces of real wood, metal, and leather are installed with very tight tolerances. Second and third row passengers enjoy the same level of luxury as found up front, albeit with a bit less legroom. Rear seats fold at the touch of a button, revealing 94.2 cubic feet of cargo space.
Previous versions had a fully removable third row seat. Thieves removed many of these (possibly to sell them to the other Escalade owners who were missing theirs?). As such, our third row came securely bolted to the floor.
Controls and switches are clearly marked and placed where they should be. The driver's manual helps explain the myriad personalization options available through easy to maneuver menus. One piece we'd like to see go away is the fingerprint-gathering touch screen entertainment and control center. Basic knobs and switches remain our preference.
Cadillac User Experience (CUE) features navigation, radio, and vehicle settings on a full color display. Business associates, tech-geeks, or your kids can stay connected to the outside world by way of five USB ports, five 12-volt outlets, a 110-volt outlet, and rear zone DVD entertainment. It's all standard equipment with the Premium edition.
Escalade is top of the line for the SUV world. We now consider ourselves enlightened as to the allure of an Escalade. By test's end, we not only understood the game at hand, we want one.
Harold O.
************