2015 Chevrolet Colorado

NEW FEATURE! Video Review:

2015 Chevrolet Colorado
By Harold Osmer

Chevrolet's reentry to the midsize truck market comes via their fully redesigned 2015 Colorado.
This particular market segment is occupied largely by import labels. Colorado is built in Wentzville, Missouri with 66% domestic (U.S. & Canada) parts. Leading the charge for American manufacturers, Chevrolet has a good, solid midsized truck on their hands.
Our test vehicle included the 4WD Z71 performance suspension package. In previous years this would translate to some mean on-road handling characteristics. Not so with Colorado. We were delightfully surprised at how well this truck managed a spirited drive or two along Old Topanga Canyon Road. Turning, braking, and simple cruising resulted in nothing but a desire to do it again. So we did.
Chevy's venerable 3.6L V-6 generates 305 horsepower and 269 lb-ft of torque. You'll have to wind 'er up to 6800 rpm and 4000 rpm, respectively, to get that kind of output. We didn't get to test the rated 7000 pound towing capacity, but that would certainly place Colorado at the top of its class. So while you may not whoop up on a Camaro any time soon, you could easily pull him out of a ditch.
Mashing the throttle brought about plenty of get-up-and-go, but when we went easy on it, this quick shift tendency proved annoying. We could easily be in high gear by the end of the block. Accordingly, downshifts in the 6-speed Hydra-Matic were slow in coming on even the slightest inclines, often dragging the engine down to 1000rpm before responding. Switching to manual solved this issue, illustrating Colorado's unleashed capabilities.
Fuel economy is rated at 17 city and 24 highway. We managed a respectable 17.5MPG overall during our (mostly city) test.
Chevrolet has gone with new rounded look for Colorado's exterior. Its aggressive new styling caught a lot of admiring eyes. We actually park our cars inside and the mid-sized Colorado passed our home garage test fit. A full-sized Silverado (on left in image above) would have to sleep outside.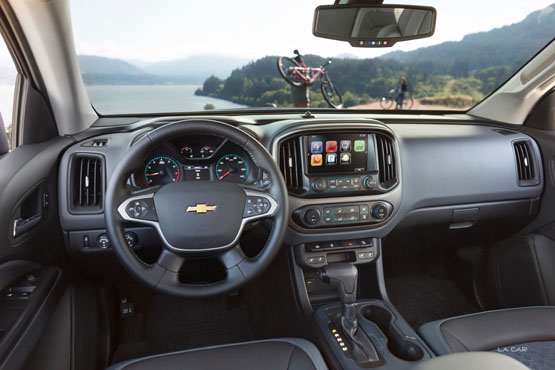 The interior is what surprised us the most. Expecting yet another entry from the "designed with afterthought" category, Colorado stepped up big. Everything was where our logical layout book tells us it should be. Switches made sense, were within reach, and had solid tactile feedback. Nothing loose, hidden, our cheap feeling. Face it, folks, we spend most of our time inside our vehicles, so this kind of thing is more important than we sometimes allow. Hats off to Chevy for getting this right.
Colorado's looks and handling made us want to drive more than we did. But extending seat time resulted in minor bruising/tenderness along our upper thighs. The seats are made of durable, washable, comfortable material with decent side bolsters. But the supports along our thigh line are too narrow. Some quick research reveals that the average American male (whom we believe to be the target buyer) age 30-45 stands 5'9" and has a 39-inch waist. We fit within that waist parameter and came away wondering who these seats are designed for.
The Crew Cab itself is roomy enough for four decent sized guys to ride in relative comfort. Well appointed with great head/shoulder room and easy entry/exit, we are impressed with Colorado's interior size. We could well imagine getting a few friends together, throwing our gear in the short bed, hooking up our loaded toy hauler and heading off to get dirty at Fun Points Ridge.
On the whole, we got a lot from the 2015 Chevy Colorado Crew Cab. Aside from a narrow seat and questionable transmission tuning, we are hard pressed to fault this mid-sized pickup.
Those in the market for a midsize pickup owe themselves a look at the new Chevy Colorado.
Harold O.
************