2016 Chevrolet Camaro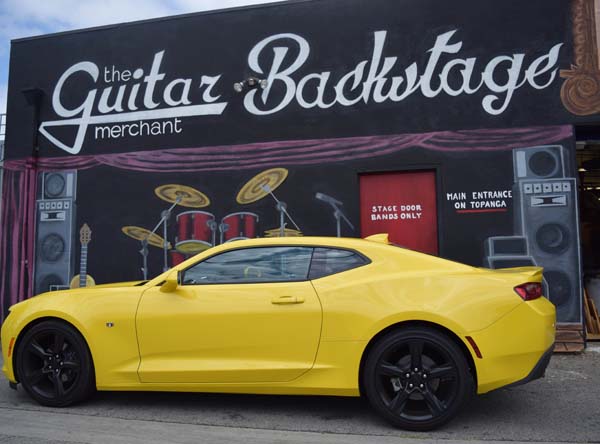 NEW FEATURE! Video Review:

2016 Chevrolet Camaro 1LT Coupe
By Harold Osmer

When I realized my review 2016 Chevrolet Camaro had a four cylinder engine, I nearly turned it down. Spending time with a whiny engined wannabe sports car holds little fascination for me. But it's surprising what a little investigation and looking beyond the headlines can do for one's general outlook.
The Monroney says 2.0-liter turbo. What it doesn't say is 275 horsepower and 295 lb.-ft of torque. That's comparable to a mid-'90s 5.7LV8 Z28. Tied in with a limited slip differential and 6-speed manual transmission, that translates to an agonizing reappraisal of what today's technology can do. The result is a pleasantly surprised reviewer.
Camaro's turbo spools up sans lag and invigorating runs up and down the canyon were plentiful after adjusting my driving style to the higher rev zone. Lack of very low end torque is noticeable when pulling out of an uphill corner or (more bothersomely) when climbing a moderate freeway grade in sixth gear. While I personally prefer torque I can hear, these things are easily accepted as part and parcel of a very nice car.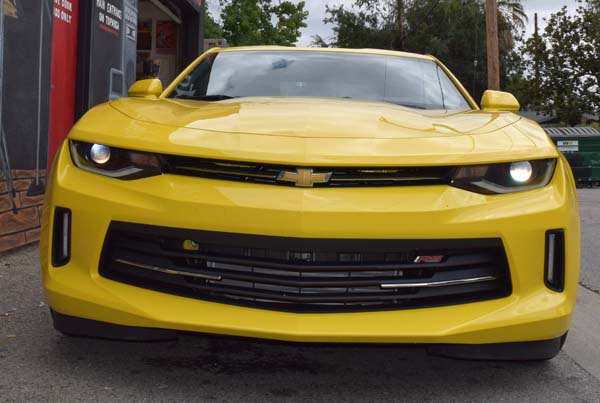 The 2016 Chevrolet Camaro's interior design engineers are on top of their game with this new look. The renewed dashboard layout features analog-looking tachometer and speedo. Systemic information is provided by a simple menu driven display. Bells and whistles are used as needed. Translation: it's refreshing to drive a car not over loaded with unnecessary (aka unused) bells and whistles.
Temperature and fan speed controls are ingeniously incorporated into large rotating switches surrounding the air ducts. Leather wrapped steering wheel, 8-way power cloth seats, automatic up/down window controls, enough airbags to field your own political convention, and solid feel make Camaro a winner.
Also new for 2016 is a suspension selector switch offering Touring/Sport/Snow&Ice options. We of course had no luck with Snow&Ice, but there are noticeable differences between the other settings. Traction control and sticky 245R40s may not allow you to make jerk circles in the local parking lot but you can keep better control of your Camaro with it engaged.
Pointless rear seats allow zero inches of legroom. They do fold relatively flat to expand trunk space. When will we ever get away from this silly regulation?
Camaro first came on the scene in 1966 and we are now into the sixth generation. Our 2016 model is a new redesign of the retro-looking Camaro introduced several years ago. Slightly smaller, lighter, and more user friendly, we turned a lot of heads.
Ours came with a screaming yellow paint job (officially "bright yellow") that certainly works with Camaro's aggressive styling. There are just enough body cues to remind people of the original design. Chevrolet had considered Wildcat and Panther as names before settling on the made up moniker Camaro. Camaro is third behind Corvette and Mustang in the world of collector cars.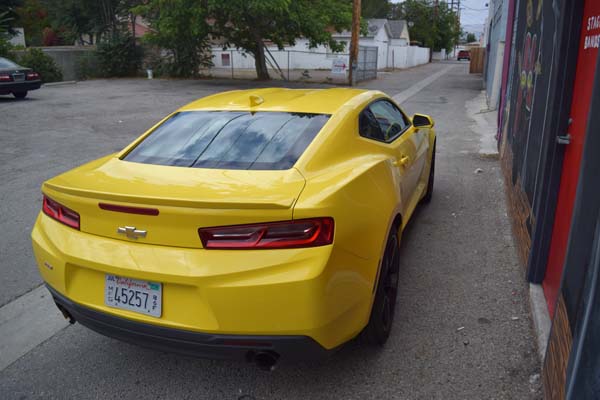 After recalibrating my internal clutch/shift timing, our Camaro proved a fun car to drive about town. The blind spot over our right shoulder is easily worked around with large outside mirrors. A high sill and low roof line provide a secure and safe feeling. One climbs down into Camaro yet it isn't an uncomfortable or awkward maneuver. The steering column moves up/down and in/out on a wider track than normal making it comfortable for any size driver. The interior is quiet at all speeds. Did I already say this is a very nice car?
Entry level for a 2016 2L Turbo Camaro is $25,700. Adding the RS package brought our test 2016 Chevrolet Camaro to $30,425. You get a lot of car for that money.
Harold O.
************