Circle of Impact

by Lynn McCoy
foreword by Parnelli Jones

You've heard stories about guys who always wanted to be race drivers, got to be one, figured out how to win, then got hurt just before his big break. Well that's only a small part of Bob McCoy's lifeline as you will find in his recently released biography Circle of Impact, The real life events of a brave action figure.
Bob McCoy drove sprint cars in the days when the road to Indianapolis required success on dirt ovals across the nation. His official racing career started in a jalopy with a first lap end over end flip down the front stretch of Balboa Stadium in San Diego. The 18-year old McCoy was hauled off to the hospital, but couldn't wait to get back to the track for more—a theme to be repeated several times throughout his life.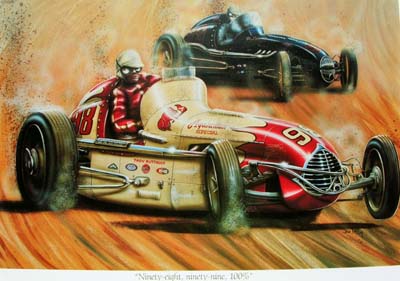 Circle of Impact chronicles Bob McCoy's life and times in a romping, engaging manner. This is a very personal account well told. Good luck when trying to count the multitude of photos both color and black and white. Many familiar faces, terrific race action shots (many with McCoy on his head), and images of McCoy's famous artwork can be found. With a book like this, there is something new every time you pick it up.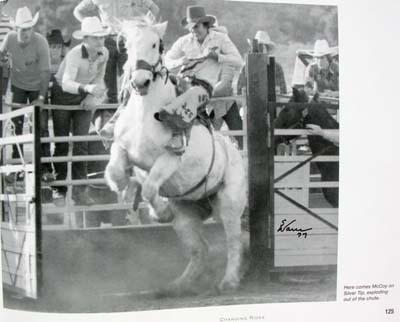 McCoy developed skills as an artist at an early age and it was through this that he gained access to the people heading the auto racing scene of Southern California in the mid-'50s. He built and detailed his own 1940 sedan hot rod as a teenager. By the late 1950s, hardly a month went by without one of Bob McCoy's paint jobs on the cover of Hot Rod, Car Craft, or some other enthusiast magazine.
Lynn McCoy, Bob's wife, compiled the stories and wrote them in such a way that you will at times be rooting for him to succeed and other times just wishing he'd get out, learn his lesson, move on. Any author that can pull you in this well has done a fine job.
Artist, racer, rodeo rider, mob enforcer, Indian reservation volunteer. It's cliche, but Bob is the real McCoy. Circle of Impact takes you on a wonderful ride.
Harold O.