Frank Lockhart

American Speed King
*
by Sarah Morgan-Wu & James O'Keefe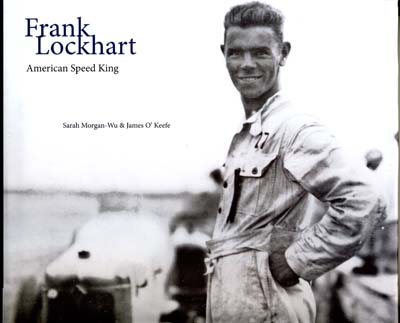 Frank Lockhart came along with the second generation of American racing drivers. They appeared in the early 1920s, after the old guard had laid the groundwork for professional auto racing.
Original race theory held that bigger was better, ala railroad technology. Hence the trend toward 900 cubic inch 4-cylinder engines turning 1500 rpm. Lockhart arrived just as Harry Miller was convincing the world that smaller, more precise engines could generate power via more rpm with the added handling benefit of lower weight.
Though not formally trained, Lockhart's engineering prowess translated into successful technologies used by racers worldwide. Included are drawings for his US Patent on intake intercooler designs, illustrating the inventive nature of the man. His willingness to employ them in his own racecars shows how much he trusted his instincts.
Frank Lockhart died at age 25 on the sands of Daytona Beach in 1928 while attempting to establish a new land speed record. Just two years before, he had won the Indianapolis 500 as a rookie. His early years as a mechanic, dirt track driver, and intuitive engineer are nicely chronicled in Frank Lockhart – American Speed King.
Any high profile career cut short by disaster spawns rumors and what-ifs from the gallery. Lockhart's life is no different. Historians, reporters, and his contemporaries all have added to the story. Some are true, some are made up from whole cloth. Authors Sarah Morgan-Wu and James O'Keefe have done a fine job of digging through the official records and period accounts to both prove and dispel many of these. The authors don't offer much in the way of opinion on their data. As true historians ought, they simply report what they found and let you complete the picture.
The book itself is as handsome as can be. Hardcover, 256 pages, large format, with multiple records, charts, and photos. Fans of the era will recognize some of the photos but will also find several rare images of Lockhart's racers from during his career and afterward. They alone are worth the $75 price of admission.
Frank Lockhart – American Speed King is a solid addition to any race fan or historian's library.
Harold O.
*I personally have a problem with anyone except Barney Oldfield being referred to as Speed King. But that's just how it goes.