RUSH movie review

One person cannot fight. It takes at least two. In this same vein, a person will most often rise to the top at the insistence/pressure/rivalry of someone else.

Thus goes the underlying tale of "Rush," a movie fresh for release by director Ron Howard.

Rush is a dramatic recreation of the rivalry between James Hunt and Niki Lauda as they battle their way through the 1976 Formula One auto racing season. Racing provides a very exciting backdrop, but is not a central character in the film. Rush provides enough inside detail to keep those familiar with Formula One history happy yet not so much as to drain the attention from their dates.

Mid-'70s auto racing was a time of great innovation and technological advancement. It took many years for race course designers to catch up, especially for a traveling series like F-1. This resulted in multiple crashes, injuries, and fatalities of both spectators and drivers. Men who competed during this era were driven by a special sort of passion.

Rush does a fine job of exploring the very different personalities of Hunt (live every day as if it's your last) and Lauda (calculate, evaluate, execute). Both approaches brought these men to the top of their profession. Their simultaneous rise ignited a natural rivalry and respect lasting throughout their racing careers.

While Rush is not a "racing movie", it's also not a mushy drama. Howard does an excellent job of balancing the two aspects in order to tell the tale well and keep the action moving, all the while allowing the characters to explain themselves without beating us over the head. Rush is based on real life events, and not everything in life is clean and tidy.

If you don't already know how the 1976 Formula season turned out, do yourself a favor and don't look it up before going to see Rush. But by all means, do yourself the bigger favor of going to see it.

Harold O.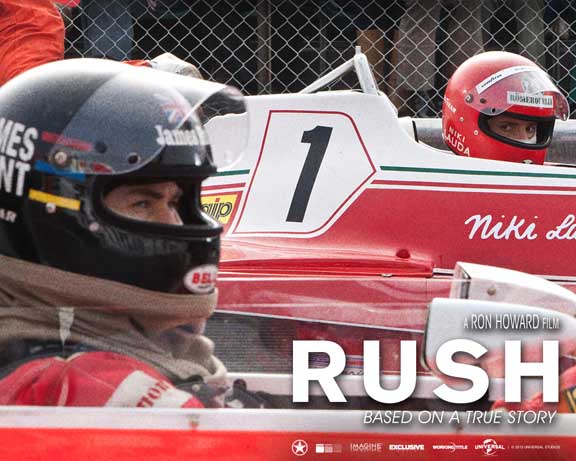 PS:
After posting this Rush movie review, several (F1 historically minded) people have commented that the movie contains too much this, not enough that, yada yada yada. I understand and appreciate their concerns. But people, "it's just a movie."