24Hrs of LeMons
In July 2007, HO Publishing gathered up some friends to confront the 24Hrs of LeMons head-on. The gist of the event is to obtain a tired old car and give it a chance to go out in a relative blaze of glory on a twisty road racing circuit, surrounded by 90 compatriots.
Rules call for the cars to cost no more than $500. Severe penalties result from going over the limit. These could be laps, tar & feather, or having the car worked over by a backhoe.
The driving team consisted of Harold O., Niel Nissing, John Ryals, Scott Andrews, Brian Blain and his sons Brody & Barrett, Johnny Butler and his son Brett. Most of us had some racing experience, but a couple of us made up for that with enthusiasm and comic relief.
We used our last name initials and came away with Team BBBBARNOB. No detail escaped our attention when transforming our Volvo 850 Turbo and Jeep Grand Cherokee into race form. Well, except (primarily) spare tires for the Volvo and perma-hold nuts on the Jeep valve cover.
So here's a few shots of our cars in the pits and on track.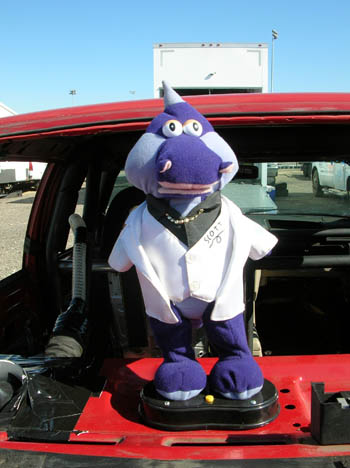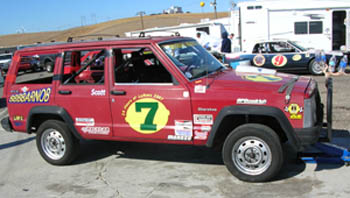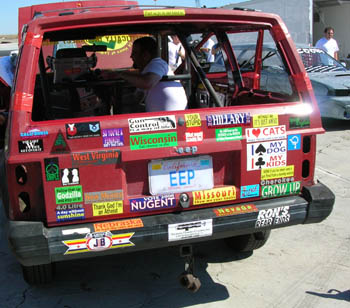 Our 24Hrs of LeMons racers were themed out with Politically Incorrect (Jeep) and Politically Correct (Volvo) decals. Both came to us red and it worked out well. Folks passing by in the pits stopped by for long periods of time to read all the stuff we came up with.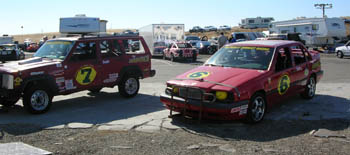 We used cooking timers wired to the dashboards to tell us when to switch drivers. The plan called for each of us to get at least one stint in each car before they blew up. Our Jeep never stayed out long enough for the timer to expire. Smoke and steam abounded, resulting in it getting pushed in multiple times. But what a blast charging it through the esses, daring anyone to run alongside!
Be sure to check out the cool video linked on our track action page.