LeMons Track Action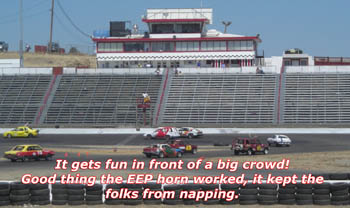 LeMons track action was really wild. We started 90+ cars with a rolling, nose-to-tail start. We raced against time mostly, seeing who could cover the most laps in the 24 hours. OK, we actually were limited to 13 due to a bitchy neighbor of the race track who insisted we shut down overnight.
Owing to a missing letter on the hood, were took to referring to the Cherokee as EEP. Whatayawant for a donor car? Oh, and man did that thing stink when we got it. The guys we got it from thought they wanted it back when were done. Of course, that was before we raced it.
The course used much of Altamont's 1/2-mile oval. The road course carved into the infield, providing us with several off camber turns, a hairpin, and esses. The big turns were intact allowing room for faster cars (Volvo) to get around the plodding ones (Jeep).
We misjudged the sturdiness of our Volvo, thinking it would blow up before the first day was done. Ryals and Johnny Butler hauled that thing around the track in fine fashion. By days end, we were in 4th place overall. And that included stops for driver changes every 30 minutes.
Day two found us without reasonable spare tires and we spent a good amount of time sliding around on hard junk yard retreads. Once we got real tires under it, that thing took off again. Then a heater hose let loose and that was about it. The Volvo finished 19th, the Jeep was still running at the end in 62nd. LeMons track action was non-stop. We had some more fun hurling lemons at the racers with our trebuchet. Here's some video of the track. The Jeep appears at around 1:50. Note that we do not give up the spot easily.